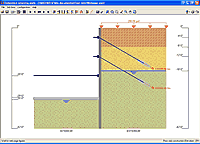 One can define the different phases or stages of construction, indicating:
Different depths of excavation.
Struts or braces.
Passive anchors (temporary or permanent).
Active anchors (temporary or permanent).
Foundation at the bottom of the excavation.
Floor slabs at different levels.
Exterior loads applied on the ground.
Loads transmitted by the basement floors.
Loads at the top of the retaining wall.
Shrinkage in the floors slabs.
Temperature effects in the struts.
One can establish layers with different thickness with the properties obtained from the typical soils library. One may also define user values based on the actual soils exploration program.
Ground water and rock layer depths can also be indicated.
Consists of graphs for the pressure-deformation behavior of the soil (active, at rest, passive), modeling springs through the Subgrade Modulus coefficients (Winkler's theory) for pressures between the active, at rest, and passive values, with iterations to obtain the convergence of results.
See the diagrams for displacements, axial load, shears, bending moments, total earth pressure, and hydrostatic pressure. Additionally, you can see force diagrams for different phases, simultaneously, in various colors and showing the significant points and their values. The graphical results can be sent to a printer or make a DXF file.
The reinforcement of a concrete wall or in-situ piles may be user-defined or designed by the program from a reinforcement table. A Code check verifies that the reinforcement meets the Code requirements.
Generates complete reports that outline the checks performed on reinforced concrete sections.
For all of the data, sketches of the construction phases, calculation results, force and displacement diagrams.
Reports can be sent to a printer or make HTML, PDF, and RTF files to use with any editor.
Prints the text in an organized layout with the graphics.
For the evaluation of pressures, the program employs a pseudo-static method, with the coefficients of dynamic pressure based on the Mononobe-Okabe equations.
Of the detailing of reinforcement in reinforced concrete walls.
The drawings can also be exported in DXF and DWG format.
DXF and DWG construction details can also be added.
Assistant for various basement levels
Will help you to introduce the data for typical projects.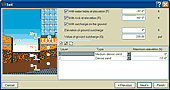 Начало